Post by Deleted on Jul 4, 2014 17:53:20 GMT -5
"Make one wrong move and everyone will know."
❅ Here I Stand and Here I'll Stay ❅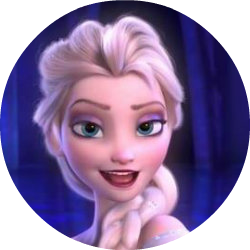 Hello. My name is Elsa.


I'm the Queen of Arendelle, but most people call me the "Snow Queen" nowadays. You see, I have a unique... ability. I can control ice, snow and wintery winds with my hands and feet. I'm not really sure why or how, but apparently I was born with it. Or should I say cursed? It certainly feels like that, sometimes, with this storm raging inside my chest. I can't control it very well and that makes me a bit of a danger to, well... pretty much everybody. Even myself. So I tend to stay away from people if I can help it... everyone but my sister, of course. I... I don't want to think about where or who I'd be without her, so let's move on to something more cheerful. I like chocolate (love, more like), building snowmen and ruling my kingdom, though I prefer to do that from the confines of my castle, for obvious reasons. I have a bit of a mischievous side, I'll admit, and I think I can be pretty fun when I'm in the right mood... ah, but of course, that's the trick, isn't it? Well, anyway. Here's a bit more about me.
This is my beloved sister:


Princess Anna
These are my friends:


Red XIII / Nanaki | Antique | Roxas | Noctis | Kristoff | Jim Hawkins | Yazoo | King Mickey | Ansem the Wise | Zidane | Rinao Heartilly
These people want my head on a platter:


Master Xehanort | Kefka Palazzo |Tenebra Edax Omnis | Cutler Beckett
I don't particularly care one way or another about:


No-one in particular, at the moment.
My heart flutters for:


No one's ever made me feel this way before...
What have I been up to? Well, it's a bit complicated...


I had just moved back into Arendelle Castle when it started. When these dark beings known as Heartless -- though I didn't know their names at the time -- invaded my world. At first, it was just big clouds of darkness on the horizon, but the creatures began appearing soon enough. My guards' attacks weren't very effective in stopping them, but since I have these... abilities of my own, I figured I would use them to protect people for once. It worked well, for a while. Then, one morning only recently, I woke up to my sister calling me and... well, one of these
things
jumped up out of the ground and just... pulled me into one of its dark corridors.
I found myself in a
distant world
, completely different from my own. A man named Xehanort and his apprentice found me there. I... I accidentally let some of my powers loose (I can't help it, it just happens...) and I think that must have attracted them to me. The man, Xehanort, said that something similar to the invasion of Arendelle happened in his own world, the world I found myself in. He promised to help me get home, but I have a feeling this is going to be a bit more of a challenge than I'm expecting it to be.
All I can hope is that Anna, Arendelle and all of my subjects find safety in my absence...
If anything happened to them, to Anna...
Best not think about that for now. I have a job to do, and I have a feeling my story here is only just beginning.
- - - ❅ - - -
Threads that are key to my central plot are
italicized
.
. . . T H R E A D . W I T H . M E  . . .
*She laughs nervously.* I'm not sure why you'd want to hang around someone like me... I can be a bit... dangerous, you know. But I'm flattered.
I'm open to a wide array of threads and themes, so if you have an idea you want to run by me, feel free to post it below or send me a PM, whatever is most comfortable/convenient for you. Thanks~!
❅
. . . O P E N . T H R E A D S . . .
❅ - Hottest Part of the Day (Atlantica) - ❅

❅ - Let the Wooing Begin (Castle of Dreams) - ❅

❅ - Fragments (Traverse Town) - ❅


❅
. . . C L O S E D . T H R E A D S . . .
❅ -
Life Behind Open Gates (Arendelle)
 w/ Anna - ❅
❅ -
Witch Hunting (Le Cite des Cloches)
 w/ Rinoa- ❅
❅ -
Of Marriage and Heartless (Arendelle)
 w/ Kristoff, Anna - ❅
❅ -
Living on the Edge (Twilight Town)
 w/ Aqua - ❅
[Inactive]
❅ -
The Sins of the Father (Neverland)
 w/ Nanaki - ❅
❅ -
Enemies with Benefits (Prankster's Paradise)
 w/ Kefka - ❅
❅ -
The Bakery (Radiant Garden)
 w/ Antique - ❅
❅
. . . F I N I S H E D . T H R E A D S . . .
❅ -
Black Ice: Into the Hands of Darkness (The World That Never Was)
- ❅
❅ -
On the Desolate Peaks (Land of Dragons)
- ❅
❅
. . . R E Q U E S T S . . .
(This is for those of you who have expressed interest in having a thread with me but I haven't had time to get to making them with you yet. Putting them up here for not only my own reference but yours as well. If I'm missing any, do let me know!)
Aerynn :: G.S., The Bakery (Antique), Secrets (Ienzo). [FZT2]


Genesis (Cloud) :: Port Royal, Elsa and Cloud meeting. Dark and mopey. [FZT2]


Xion :: Post-Raid Meet 'n Greet, Twilight Town. [FZT2]


Nanaki :: Desperate, Land of Dragons. [FZT2]


Zidane :: A Thief in the Halls, Arendelle.
Aile :: Red-Stained Beauty, Radiant Garden.
Yazoo :: A Chance Happenstance, Blank Valley.
Ienzo :: Field Research, Location TBD.
the Snow Queen
By tomackze; Edited by OuRex